September 24th 2015
Kick Start with County Rolling Stock!
We are pleased to announce our support for County Rolling Stock's 2nd N Gauge Kickstarter campaign, after the success of the kit based project nearly 2 years ago, their latest project is the mermaid ballast wagons in RTR with Dapol. Pledges can be taken by following the link. BACK THE MERMAID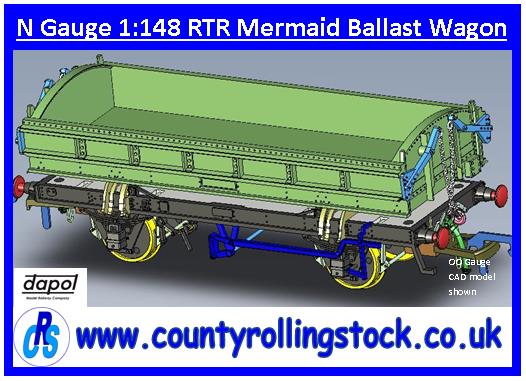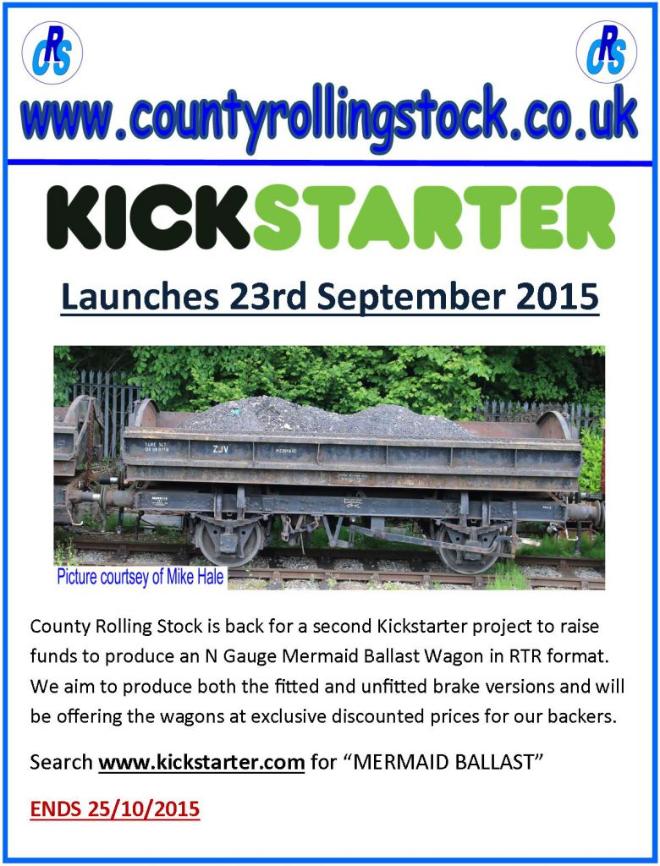 September 14th 2015
New Kits Coming Soon!
We are pleased to announce that we have some new kits under development, these include 2 new types of domestic waste containers to suit the flows out of the capital. We are currently developing the East & West style containers. We expect the price of these to be in-line with our Northern Style waste containers. Release is expected within the next 2 months.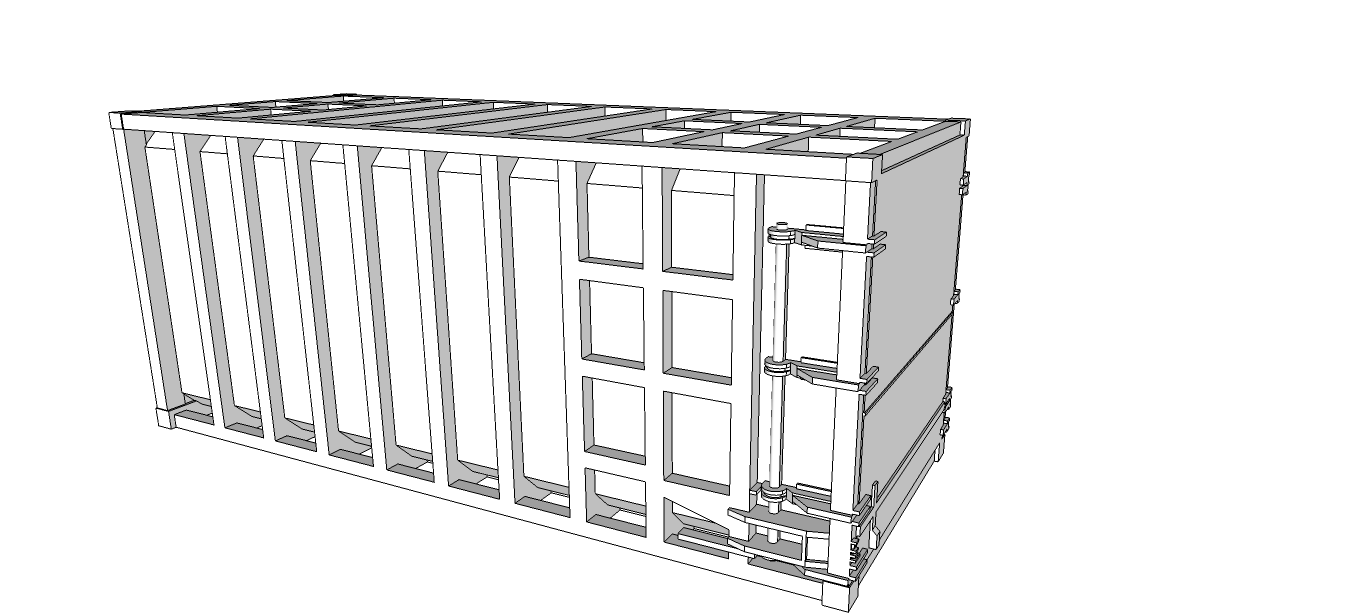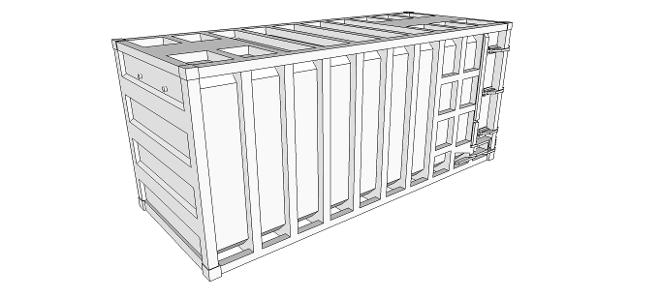 June 24th 2015
Wild Boar Models is now on Facebook & Twitter
We now have our own Facebook and Twitter pages, we want to bring you all the news on our new secret project when it is ready. So don't miss out, Like or Follow us today!
May 2nd 2015
Loco AWS Reservoir Tanks now available - New Product
Our latest release are the running plate mounted AWS Reservoir Tanks fitted to some steam locomotives in the dying days of steam, unfortunately these are missing from some older models, or when detailing a model. We have created a pack suitable for converting 20 locos, these are available via Shapeways in there FUD and new FXD plastics.
April 21st 2015
SALE - PFA's £10.50 & Side Loaders £10 (pre VAT) - Until Saturday
Following the sale on our cranes last weekend we have an offer on our PFA Container flats and matching side loading containers, these are £10.50 pre VAT & £10 pre VAT. This offer is open until Saturday 25th April. Don't forget transfers for the containers are available from Precision Labels.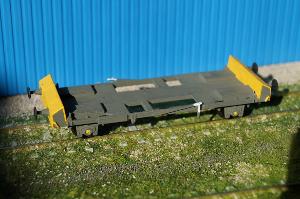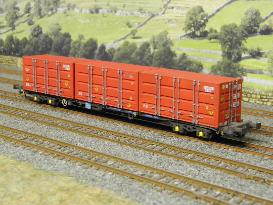 Image courtesy of Jon Gavin, Peak Dale Works
April 17th 2015
SALE - £40 off our cranes this weekend only! - Just 3 remaining
For this weekend only our cranes are down to £120 plus P&P, we currently are down to our last LNER built crane and have just 2 SR cranes left. Please note that our stock system is not live, if an item has sold out we will refund your order.
March 27th 2015
RTR Locomotive Project - Summer 2015
Wild Boar Models is in the process of initiating its own RTR locomotive project to be produced by one of the growing range of RTR Manufacturers. Recent announcements have shown that we have our finger on the pulse of what modellers want, so our announcement will be well worth waiting for!

We are anticipating announcing the chosen prototype at the beginning of the 3rd Quarter.
March 2nd 2015
Last few cranes available! UPDATE
Due to the popularity of our 45t Breakdown Crane Kit, we are now down to the final few of these kits. If you want one please be aware that once this batch have been sold out there will be no more. So don't delay & order today!
January 20th 2015
Crane Batch 3 Update No2
The next batch of our 45t Breakdown Crane kit are now READY to ship, emails regarding payment have now been sent out so please check you inbox if you are awaiting a crane. We apologise that this batch was delayed, this was due to an issue with outsourced parts.
December 21st 2014
Crane Batch 3 Update
The next batch of our 45t Breakdown Crane kit will be ready to ship within the next week, we will be contacting customers who are in this batch in the next few days.
Wild Boar Models would also like to wish all our Customers & Visitors a Merry Christmas & a Happy New Year.
We hope to unveil what we have planned for 2015 soon.
October 18th 2014 Image Copyright - Paul Harrison
Wild Boar Models Announce PHV Bogie Limestone Hopper as 'Boxed Kit No2'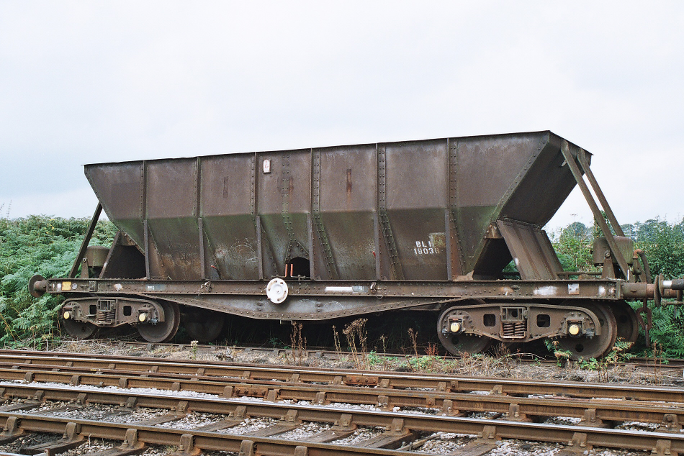 Wild Boar Models are pleased to announce that are next 'boxed kit' will be of the iconic PHV Limestone Hoppers that were in use for ICI and later Brunner Mond. The kit will has been designed around ease of assembly, but without sacrificing detail in the process. The kit will be based on the First two batches of wagons built (Covering wagons 3200-3283 & 3284-3319) with provision being made for both styles of body lettering and bogies. The kit will allow you to model these iconic wagons accurately from 1936 (If modelling 3200-3283) to 1997! 3 different bogie options will be offered to pre orders:
6ft Diamond Frame (3200-3283 as built until 1970/80's)
6ft Plate Frame (3284-3319 as built)
6ft Plate Frame with Roller Bearing Axleboxes (3200-3319 as modified 1970's - 1997)
The kit is planned to have a resin cast hopper body and will feature extensive rivet detail across the wagon. Pre-orders are invited at a price of £40 per wagon +P&P and delivery is expected in early 2015. Please see the PHV Hopper page for more details.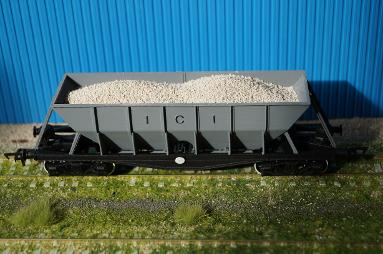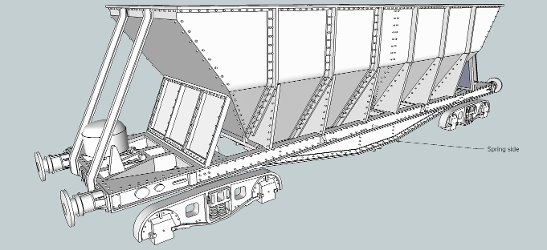 September 20th 2014
Next Project Chosen - 'Boxed Kit' No 2
We have now selected our next premier 'boxed kit' which will follow the 45t crane to become our second batch produced model that will be available to pre order from Saturday 18th October with delivery expected in early 2015. This project has been in development for over half a year already and two running prototypes have already been delivered, tested and developed. The kit will also be our first to contain a resin cast part. Keep a look out for more information soon.
August 28th 2014
First Crane Shipped!
Today Wild Boar Models has shipped the first of our 45t Breakdown Crane Kits, with the remainder of the first batch to be shipped within the next few days. All customers who have expressed an interest in these will receive an email update shortly. Batch 2 has been brought forward and will hopefully ship within 2 months.
July 30th 2014
Exciting News!
The 1st Batch of our 45t Breakdown Cranes are due to ship within 3 weeks of today. Those who's cranes are in batch 1 will be contacted shortly.
July 20th 2014
Despite a recent announcement from a R-T-R manufacturer, Wild Boar Models is to continue with the design and development of our forthcoming kit of the FFA/FGA Container flats, we are continuing as we believe our kits will be cheaper and should be available within the next few months. We have recently had the prototype chassis made and more will be made shortly.
FFA Chassis (Prototype, final kit will differ)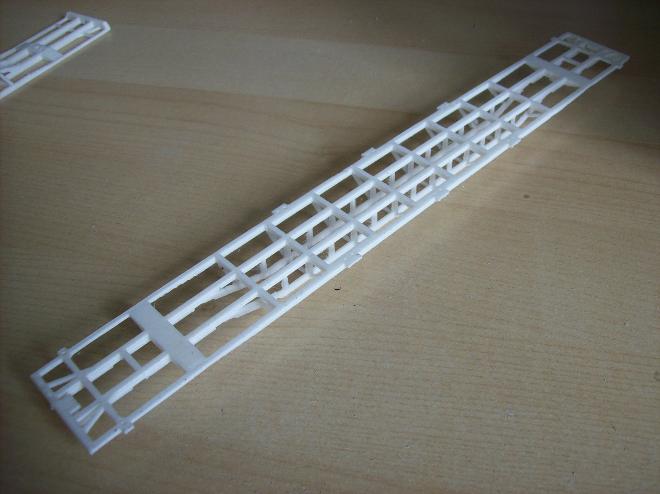 June 16th 2014
Our new 1980's square ribbed containers are now available to pre order (these models are UK made and are made to order), these are also cheaper than our existing containers being competitively priced at £6 for a 20ft container. Below are some pre production models, more information can be found on their own dedicated page.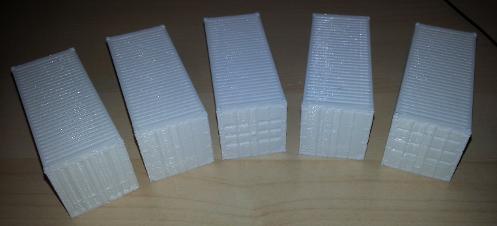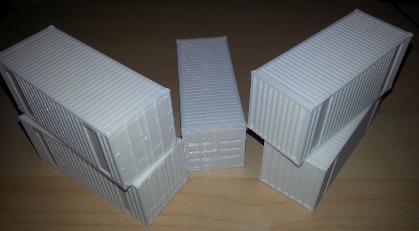 June 2nd 2014
Thank you to everyone who is waiting patiently for the our forthcoming 45t Breakdown Crane Kit. All components for the first batch have been delivered and only the instructions and packaging require completion. We anticipate that we will start shipping the first of the kits at the end of this month or the beginning of July. Subsequent batches are expected to follow over the summer. Thanks again for you patience.
April 20th 2014
We have been making steady progress on our crane kits and are now only waiting on the delivery of 1 component before the first batch of cranes can be completed and dispatched, we anticipate that the initial batch will be ready to ship in late June with all subsequent kits to follow over the summer. We apologies for the delays in producing this kit but hope our aim to get this kit right is appreciated.
We have also been working on other kits that will continue to be released throughout the year such as our 1980's containers and potentially some Tafoos Biomass Hoppers (Pictured below devoid of its detailing parts). We also hope to speed up development times of our kits shortly with the acquisition of our own 3D printer which is primarily to be used for prototyping as well as some new kits.
Finally we also have an exhibition layout for sale 'Wild Boar Fell', Please check the 'layout for sale' page for more details.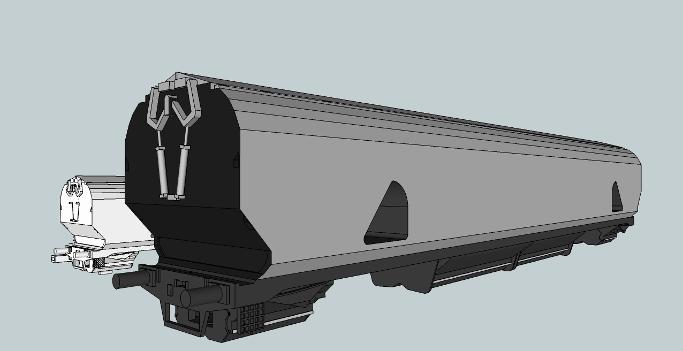 December 20th 2013
This week we have received two boxes of new prototype kits, the included our first N Gauge venture, a 3 pack of our popular domestic waste containers suitable for use on MB Models excellent KFA Flat, These nicely compliment our existing OO gauge boxes.
Back in familiar territory we have also received some new OO gauge containers, these are based on the 1980's built containers that featured square ribs and flat data panels on their sides (and sometimes ends). We aim to develop a range of these boxes in both 20ft and 40ft variants over the following months. Future variants will also include feedback gained from these first boxes such as the addition of moulded locking bars and supports for a floor. Our first box the 20ft flat door however features holes for after market locking bars. We hope to have more news on container based projects shortly including our planned Bulk Powder Container (3 Variants to be produced).
Wild Boar Models would like to wish all our customers and website visitors a Merry Christmas and a Happy New Year!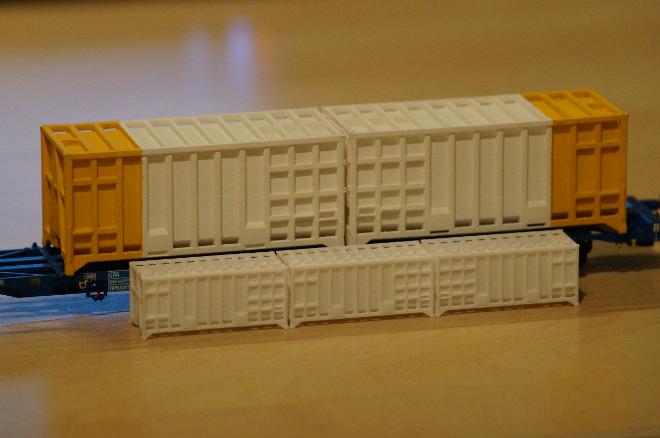 December 8th 2013
We have several new non crane projects in development at the minute with several prototypes on order with delivery in the next few weeks, these models will have a RETRO theme to them and will be announced on delivery of the prototypes. Hopefully the first of these will be on sale by the new year!
Wild Boar Models would like to wish all our customers and website visitors a Merry Christmas and a Happy New Year!
November 10th 2013
Work on the crane is continuing with many components already sourced or manufactured. CAD drawings for the final parts are mostly complete requiring only a few small changes and extra cab detailing awaiting adding before the final parts are manufactured.
The current aim is to finalise and box the kits over the winter for release early next year (as soon as they are packed).
If you have any questions about this project please feel free to contact us.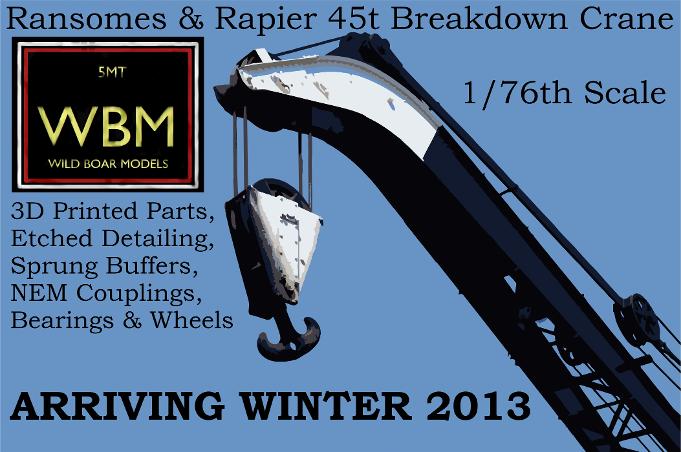 September 17th 2013
We are pleased to announce that a further option will be added to our crane kit, this will be a set of extra parts to allow the LNER order cranes to be modelled allowing the correct cylinders to be added and the chimney lifting gear (non functioning).
We have also decided to give the option of match wagons to advanced order customers, these will be as follows:
GWR cranes 2 standard + 4 extra tool boxes,
SR/ LNER as built with 2 standard tool boxes,
or
SR conversion, 1 standard tool box + 2 bogies (fixed).
This option can only be given to advance orders, and it is likely that production run kits (as opposed to pre orders) will feature the GWR specification match wagons. However we may make the other match wagons available separately at a later date.
September 11th 2013
We are currently in the middle of developing our 45t crane kit (latest CADs shown below) and we are considering our options for releasing this kit. What is envisaged is a kit containing all the 3D printed parts from two printing companies using 3 materials as well as an etched detailing kit, 10 axles and 20 bearings (enough for the complete crane) plus a set of instructions. An approximation has been made and it is likely that this kit will around £150 due to its size and complexity, the kit will also be of limited release on a small batch basis initially, this may be altered at a later stage. We would greatly appreciate expressions of interest from modellers who are likely to purchase this kit. Contacting us by our website submission function would be greatly appreciated so the size of the first batch can be calculated. Also due to a variation in the number of tool boxes located on the GWR and SR owned cranes it would be appreciated if you could state which type you would prefer as the kit is currently based on the GWR vehicles, but could be have an alternative match wagon designed for SR modellers if demand is present.
A full kit prototype is due in the next few weeks (printed parts).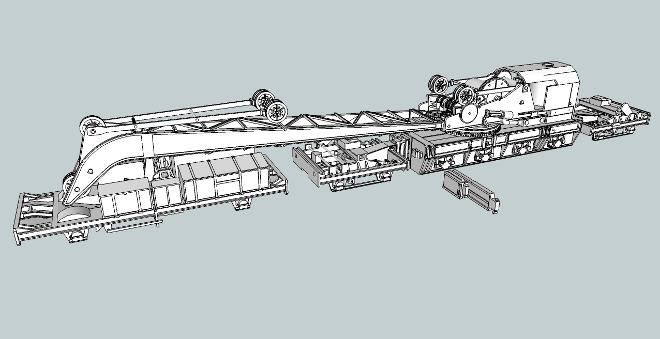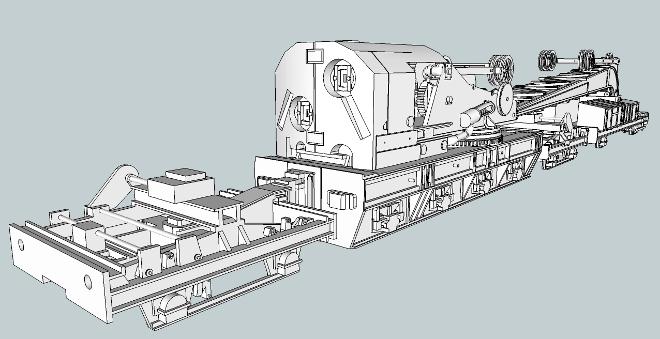 September 6th 2013
The last week bas seen progress made on the new crane kit, the kit has had an inital prototype made of some of the main components and a second (full) prototype will be ordered shortly.
The images below show the kit in 'assembled' state. Please note that the design shown is a work in progress design.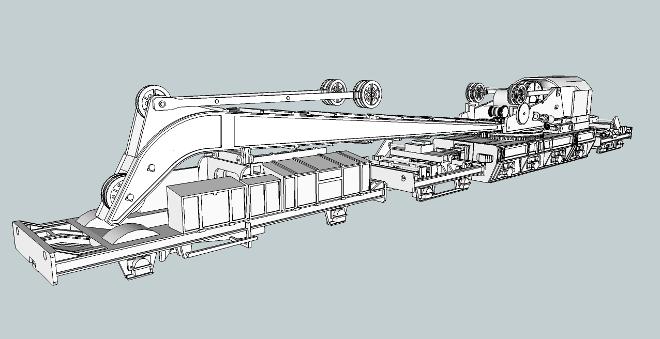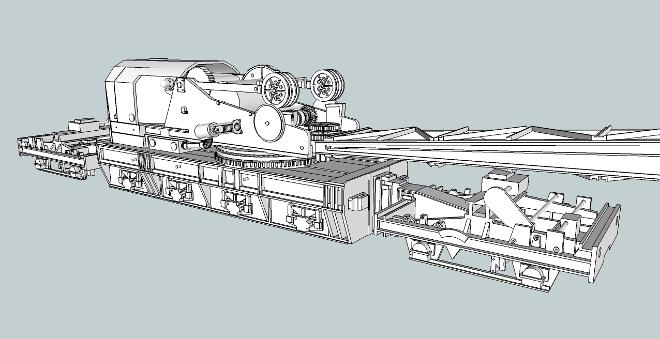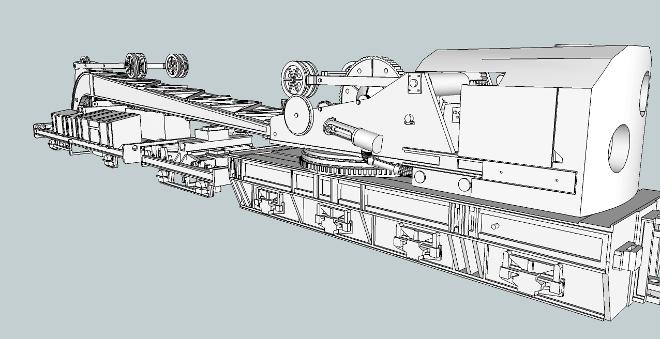 August 15th 2013
A quick update, the previously mentioned Kick-starter project for County Rolling Stock's N gauge engineers wagons (pictured below) is now live and ready to fund. More information is available here County Rolling Stock Kick Starter Any support for this project will be a great help, and the more interest there is in these the more chance I will scale them up to OO gauge.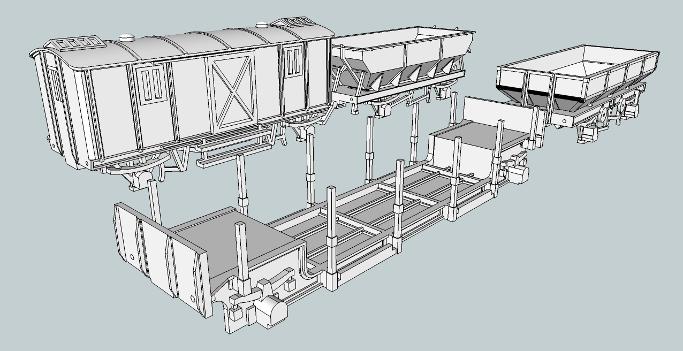 August 13th 2013
Over the last month Wild Boar Models has been developing a potential new kit which is set to be our biggest and most ambitious to date (for a single item), the models is a 45t steam crane and will be made available if sufficient demand is identified. The kit will likely be around £80 or above with parts from two suppliers, more accurate details will be given at a later stage. Please note this is still very much a work in progress.
In other news Precision Decals has now released a suitable decal pack for our two 20ft side loading container kits, links have now been provided to these on our products page. The bottom image has kindly been supplied by Jon Gavin of Peak Dale Works, and shows the transfers applied to our MK1 version of the low relief containers (now superseded by the MK2 variant) and is posed on one of the excellent Hornby KFA container flats.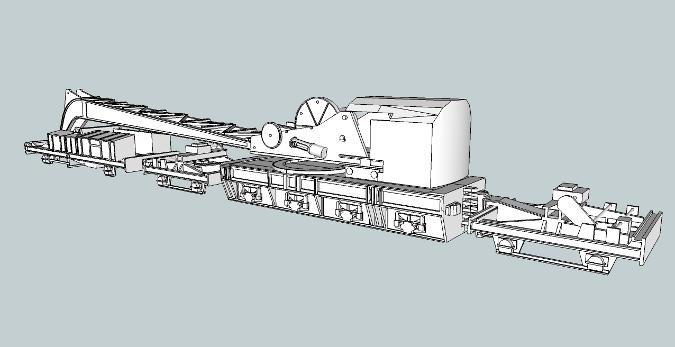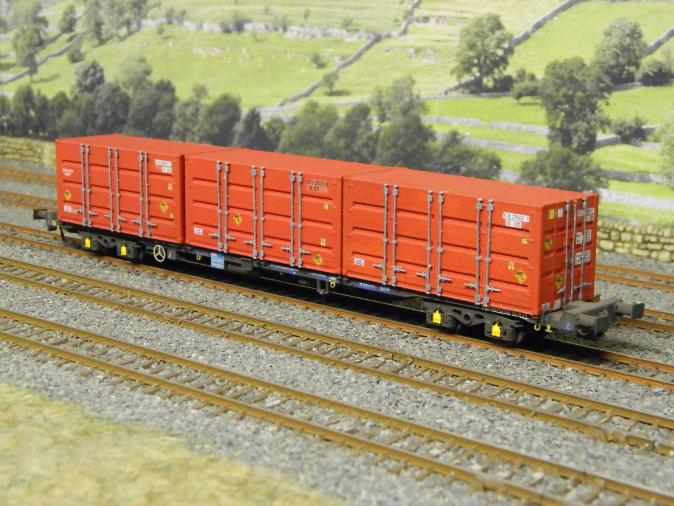 July 25th 2013
The last 5 weeks have seen a lot of work being undertaken on new kits, most of these have been commissioned items from N gauge supplier County Rolling Stock, these kits are to be launched by a Kick-starter campaign shortly and are focus on engineers wagons. Initially 4 wagons will be released these are a BR Tope, a GWR T12 Sleeper wagon, an LMS Gannet ballast hopper and a GWR CC7 Tool van, County Rolling Stock has kindly given Wild Boar Models permission to release these kits in OO gauge form. It is therefore likely that the Gannet will reappear in OO and the others might depending on popularity.
For more information on the N gauge wagons check here www.ntasticshop.co.uk/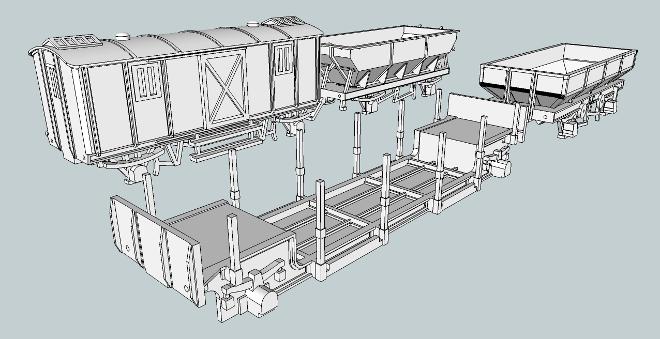 June 14th 2013
The new PXA Scrap Steel wagons are available to order now along with their buffers and bogies, the instructions for these will be added shortly. Also now available to purchase are our 20ft Side loading containers and our 20ft Domestic waste containers.
We have also made some progress on a few new projects, such as a 4 BEP buffet car to fit the Bachmann 4 CEP chassis, as well as the intermediate wagons from the BR long rail trains these being the YEA Perch's and the intention is to bring out the other vehicles to complete the set. Both of these are at the middle CAD design stage.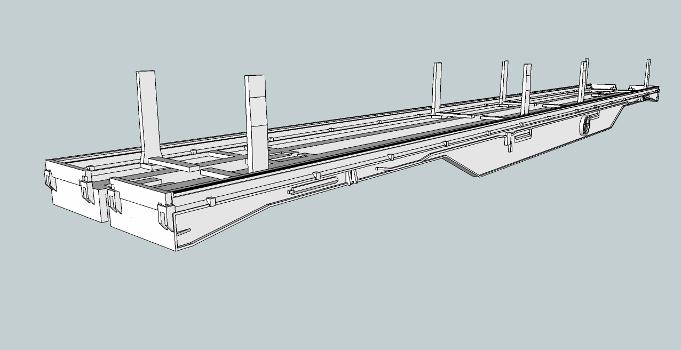 April 23rd 2013,
Today the test bogies for the PXA Scrap Steel wagons have arrived along with those for the bogies for the JXA Steel opens (as pictured in the lower post). The prototypes for the bodies of these wagons are due next week, and that means all being well the kits of both wagons should be up for sale in about 1 months time,
Also in development is an updated side loading container, this model feature some modifications and has had the locking bars removed and replaced with mounting holes to accept Bachmann's locking bars. In development along aside this are some domestic waste containers which are yet to be prototyped but are near to having their design finalised ready for the first print. The other wagons projects have not moved much further forward, but we are looking at future projects too including a replacement bodyshell to make a 4-BEP buffet car.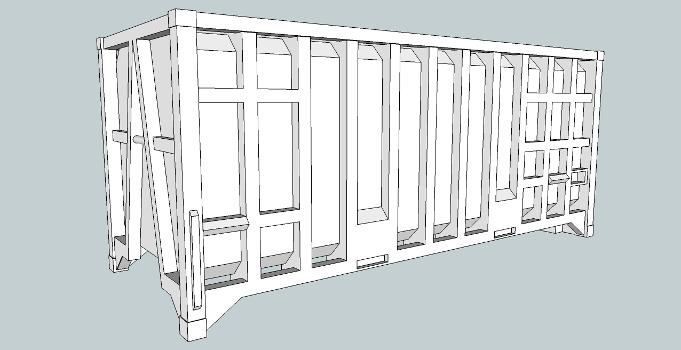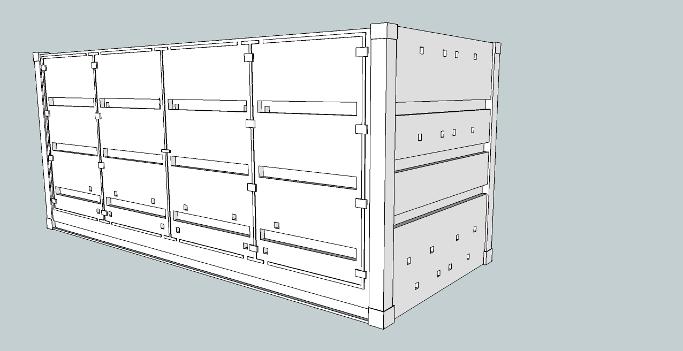 March 22nd 2013,
This week has seen a start made on the development of a new modern bogie wagon kit. This new kit will be the JXA bogie box steel opens which were used between scrapyards and steelworks. Most of the body design work has now been completed, and work is now commencing on the smaller details, the bogies have also been drawn. Please note this kit will require the sides and floor for the box to be cut from 30 thou plastic sheet (this must be sourced separately).
Also our PXA steel open is nearly ready for prototyping, as is our ramp wagon diorama kit.
Also more kits are planned to be produced using the JXA as a basis, these are the
JNA Steel Bogie Boxes
PXA Steel Coil Hoods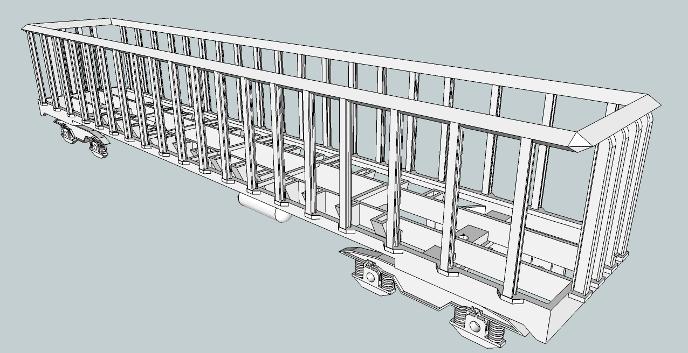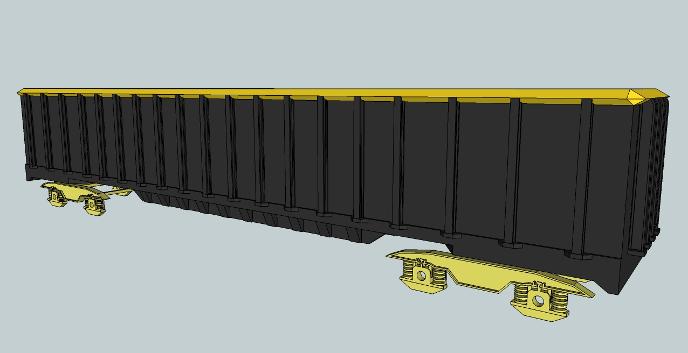 March 5th 2013
Now Available are our GWR Cordon gas tank wagons and our PFA 20ft container flats. Both of these kits feature NEM coupler pockets and are the first of ours to do so. We hope to make this a feature of many of our forthcoming kits.
Also available are the two variants of cable laying 'Parrot' wagons allowing all 10 wagons to be modelled with a little bit of work. The two releases cover the 2 and 3 spindled wagons converted in 1971.
March 1st 2013
Currently in development at the minute are the FFA and FGA container flat wagons, and the correct bogies have now been test printed. Finer details are yet to be added to the chassis drawings, but work is progressing. Two other large bogie wagons are in development, these are PXA steel carrying wagons and are being drawn so both pre and post conversion (to bogie boxes) can be produced in the fullness of time.
Hopefully both wagons could be ready in the next few months.